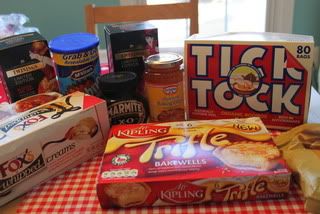 So we're both back from our England trip, half way through unpacking and getting back to the business of being back at home. It's always tough coming back, I miss my family and I miss a lot about jolly old England. Still, give me till lunch time and I'll be in the American swing of things again. (but not before then, because I'll be having elevenses!)
When I was a kid I first experienced the joy of "Elevenses" at brownie camp. It's basically a cup of tea and light snack such as a cupcake or some biscuits (British for cookies), eaten around 11am, like a morning afternoon tea! Mostly because the name is kinda funny, and because it's an excuse for cake after breakfast, we've been deeply into elevenses lately at chez Hoffpauir. After beginning to unpack from the trip it looks like we brought back quite the haul of snacks and tea perfect for the "meal"!
Fox's biscuits, Hob Nobs and a new trifle spin on the Bakewell tart (not to mention a few hard to find baking bits and bobs)! The current star for me though is finding a tea company I'd missed before, Tick Tock rooibos tea. I loved the packaging so much I brought back a big box for the house! It's definitely one of the tastiest rooibos teas I've had too, so tastes as good as it looks. I love the ad they made with various Tick Tock drinkers too (watch for the awesome 1940's lady).
To cater to the harder to find items I miss from the homeland we also picked up a couple of candy making books. Between the 2 there are recipes for some of my favorite sweeties like rose and violet creams, various toffees and rhubarb and custards. Can not wait to try some of these out! I especially love the presentation of the little Life is Sweet book. it's full of quirky personality and some of the cutest retro illustrations!
So there we have it, all our sweet stuffs are unpacked, clothes are in the wash, we're getting back to work and if you can't get hold of me around 11am, I'm probably enjoying some of the above and planning what to have with afternoon tea!